PEMBERDAYAAN KOMUNITAS WIRAUSAHA MUDA BERBASIS CONTENT MARKETING DI PRUMPUNG TENGAH JAKARTA TIMUR
Tuti Widiastuti

Universitas Bakrie

Dr.

Universitas Bakrie

Mrs.

Universitas Bakrie
Keywords:
content marketing, marketing communications, young entrepreneurial community, website
Abstract
Young entrepreneurs are now seen as having the potential to become the backbone or support for the country's economy. The problems of young entrepreneurs are still closely related to the difficulty of marketing. One of the factors that causes the distribution of goods to be less widespread is because young entrepreneurs have not done online marketing. Empowerment of young entrepreneurs is believed to be able to provide more benefits to businesses. But how business actors can make it part of a strategy that supports businesses in their respective core activities and supply chains is still an obstacle. The solution offered in this service program is to provide training and assistance that focuses on improving the ability of young entrepreneurs in the field of marketing communication through the website. For this reason, several sub-discussions will lead to promotion through the website, improving product quality through innovation and the use of technology. This program is carried out with the aim of encouraging and increasing the productivity of the young entrepreneurial community in Prumpung, East Jakarta so that they have both hard skills and soft skills so that they are able to be economically and socially independent.
References
Clow, K. E., and Baack, D. (2016). Integrated Advertising, Promotion, and Marketing Communications 7th Edition. England: Pearson Education Limited.
databoks.katadata.co.id. (13 April 2020). Penurunan Penjualan UMKM Imbas Pandemi Covid-19. https://databoks. katadata.co.id/mdatapublish/2020/06/10/penurunan-penjualan-umkm-imbas-pandemi-covid-19.
Gamble, S. (2016). Visual Content Marketing Leveraging Infographics, Video, and Interactive Media to Attract and Engage Customers. Canada: Willey.
Mcpheat, S. (2011). Content Marketing. The Internet Marketing Academy & Ventus Publishing Aps. UK.
Moriarty, S. et al. (2009). Advertising, Edisi Kedelepan. Jakarta: Prenada Media Group.
Pearce, J. A., and Robinson, R. B. (2008). Manajemen Strategi, Formulasi, Implementasi, dan Pengendalian. Jakarta: Penerbit Salemba Empat.
Ryan, D. (2017). Understanding Digital Media, Marketing Strategies for Engaging The Digital Generation. London: Kogan Page.
Smith, P. R., and Chaffey, D. (2013). E-marketing Exellence, Planning and Optimizing Your Digital Marketing. Abingdon: Routledge.
Sutisna. (2002). Perilaku Konsumen dan Komunikasi Pemasaran. Bandung: PT Remaja Rosdakarya.
We Are Social & Hootsuite. (2020). Digital Data Indonesia 2020. https://datareportal.com/reports/digital-2020-indonesia.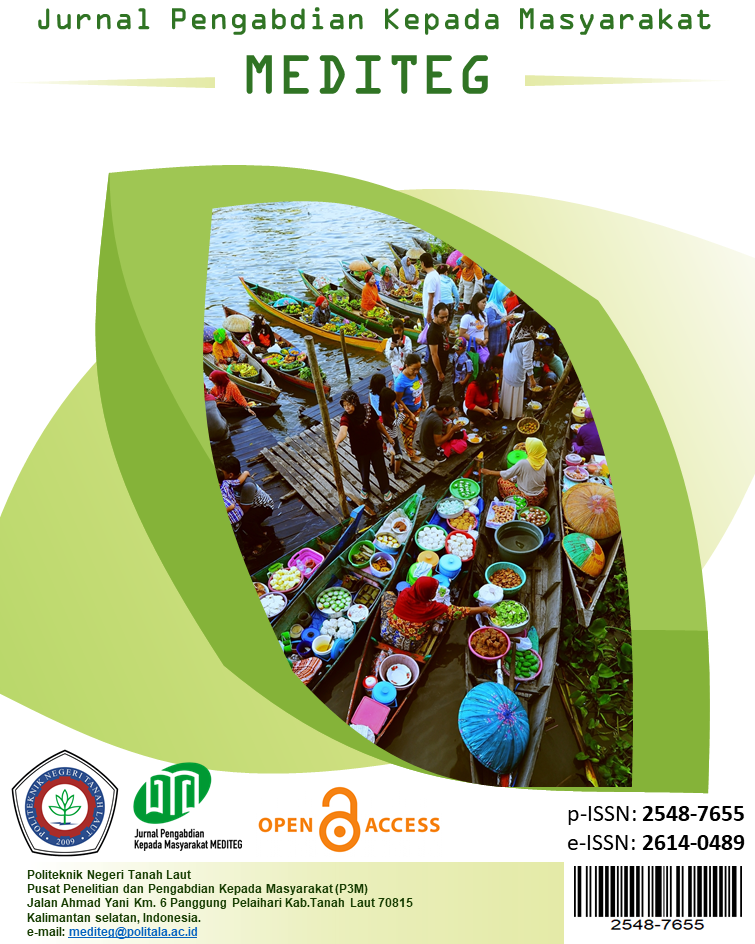 How to Cite
WidiastutiT., MihardjaE. J., & HattaH. (2021). PEMBERDAYAAN KOMUNITAS WIRAUSAHA MUDA BERBASIS CONTENT MARKETING DI PRUMPUNG TENGAH JAKARTA TIMUR. Jurnal Pengabdian Kepada Masyarakat (MEDITEG), 6(2), 65-78. https://doi.org/10.34128/mediteg.v6i2.101