INOVASI SOSIAL MELALUI PROGRAM CSR PT PLN (PERSERO) UNIT INDUK TANJUNG JATI B
Miftah Arifin Miftah

UNISNU Jepara

A. Khoriul Anam Anam
Keywords:
empowerment, CSR, Group, disabled, innovation
Abstract
Empowerment is one of the strategies used in community development at this time. it can increase knowledge and power to reach a state of empowerment. one of the funding source empowerment programs comes from the Corporate Social Responsibility (CSR). PT. PLN (Persero) Tanjung Jati B Generation Main Unit sees that there are vulnerable groups that have the potential to be developed in their business management, these groups are the disabled community "Sadifa" Jepara. The approach used is by using a 4-pillar model, namely the community as a supporting system and community activities, MSME Center, a forum for communication and cooperation, and the development of environmentally friendly products. This empowerment program aims to strengthen the economy of the disabled community through various activities such as making herbal drinks, various types of soap, hand sanitizer, convection business, basic food business, and so on. In addition, the activities carried out include various types of training to strengthen MSMEs, providing equipment assistance, opportunities to develop networks by means of mass media publications as well as initiatives for sustainable and environmentally friendly economic activities.
References
Akram, I., & Naseem, M. A. (2010). Self concept and social adjustment among physically handicapped persons. European Journal of Social Sciences, 15(1), 76–85.
Anderson, T., Curtis, A., & Wittig, C. (2014). Definition and Theory in Social Innovation. Danube University, Krems, Austria, 1–36.
Cahyono, S. A. . (2017). Penyandang disabilitas: menelisik layanan rehabilitasi sosial difabel pada keluarga miskin. Media Informasi Penelitian Kesejahteraan Sosial, 41(3), 239–254.
Ghassania, S. F., & Naryoso, A. (2021). Pemanfaatan Kegiatan Corporate Social Responsibility Difablepreneur Sebagai Media Untuk Membangun Reputasi Bisnis Pertamina. Interaksi Online, 9(2), 53–74.
Hadi, M. I., Agustina, E., Andiarna, F., Nadlir, N., & Munir, M. (2019). Pengaruh Kompleks Linier Alkyl Benzene Sulfonate (LAS) Dan Kadmium (Cd) Terhadap Peningkatan Akumulasi, Absorbsi Dan Toksisitas Kadmium (Cd) pada Ikan Mas (Cyprinus Carpio L). Al-Ard: Jurnal Teknik Lingkungan, 4(2), 28–35. https://doi.org/10.29080/alard.v4i2.477
Maclean, M., Harvey, C., & Gordon, J. (2013). Social innovation, social entrepreneurship and the practice of contemporary entrepreneurial philanthropy. International Small Business Journal, 31(7), 747–763. https://doi.org/10.1177/0266242612443376
Ramadhani, P. E., Saputri, A. E., & Raharjo, S. T. (2020). SCR dan Penyandang Disabilitas. Prosiding Penelitian Dan Pengabdian Kepada Masyarakat, 7(1), 144. https://doi.org/10.24198/jppm.v7i1.28585
Widiantoro, F. W., Wartono, Shinta, A., & Hartosujono. (2013). Pemberdayaan Warga Difabel: kunci sukses penggalian potensi dalam bidang bisnis, 55–61. https://doi.org/10.24176/0360.0105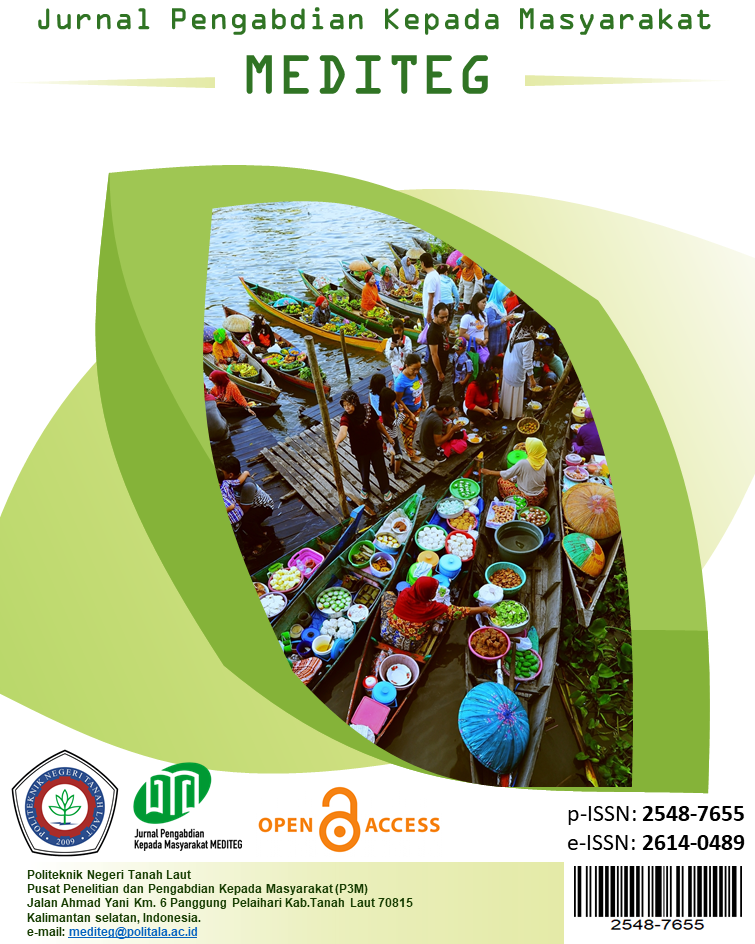 How to Cite
MiftahM. A., & AnamA. K. A. (2022). INOVASI SOSIAL MELALUI PROGRAM CSR PT PLN (PERSERO) UNIT INDUK TANJUNG JATI B. Jurnal Pengabdian Kepada Masyarakat (MEDITEG), 6(2), 89-100. https://doi.org/10.34128/mediteg.v6i2.103