PENGABDIAN KEPADA MASYARAKAT KELOMPOK WANITA TANI (KWT) BENAWA RAYA MANDIRI UNTUK MENDUKUNG KEMANDIRIAN PANGAN
susilawati Fahutan ULM

FAKULTAS KEHUTANAN
Keywords:
Sustinable food house model, takakura basket, urban farming, KWT, MOL
Abstract
The Women Farmers Group (KWT) Benawa Raya Mandiri was only established in 2020. The crops are sold to collectors, but the harvests have not been able to meet market demand. This is due to limited land and lack of knowledge about vegetable cultivation. This PKM program is aimed at the Benawa Raya Mandiri Women Farmers Group. KWT is considered a superior group in absorbing the adoption of new technology, so it is very appropriate to be used as a pilot project activity. The success of the activity is expected to be replicated and disseminated or disseminated to other family members based on the description of the success of the Benawa Raya Mandiri KWT as the first hand in the adoption of technology for processing organic waste into compost through the takakura basket technique, processing organic waste into MOL, utilizing Urban Farming yards with a technical approach. planting tabulampot, verticulture, as the embodiment of the Sustainable Food House Model (MRPL). The methods applied are counseling and discussion; Takakura Basket and MOL technique composting training; training on making Sustainable Food House Models with an Urban Farming approach, administrative and financial management assistance; Monitoring and evaluation.
References
DWIRATNA, S., WIDYASANTI, A. & RAHMAH, D. M. 2016. Pemanfaatan lahan pekarangan dengan menerapkan konsep kawasan rumah pangan lestari. Dharmakarya, 5.
HAMZAH, A. & LESTARI, S. U. 2017. Rumah pangan lestari organik sebagai solusi peningkatan pendapatan keluarga. JAPI (Jurnal Akses Pengabdian Indonesia), 1, 65-72.
PRIHANDINI, P. W. & PURWANTO, T. 2007. Petunjuk teknis pembuatan kompos berbahan kotoran sapi. Pusat Penelitian dan Pengembangan Peternakan.
SULISTYORINI, L. 2005. Pengelolaan sampah dengan cara menjadikannya kompos. Jurnal Kesehatan Lingkungan, 2.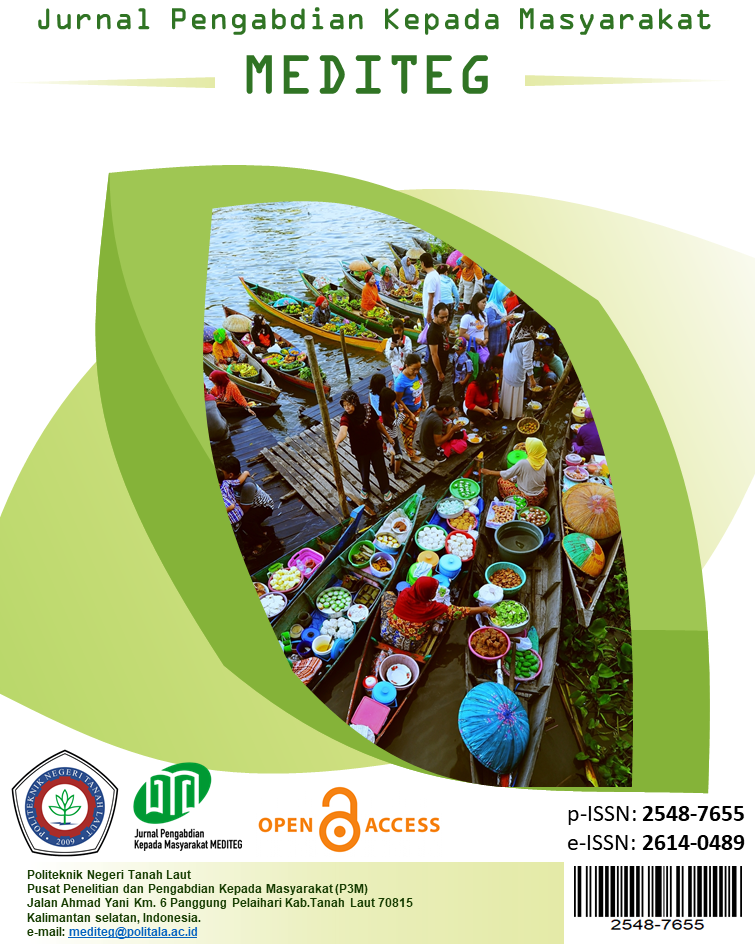 How to Cite
Fahutan ULM susilawati. (2022). PENGABDIAN KEPADA MASYARAKAT KELOMPOK WANITA TANI (KWT) BENAWA RAYA MANDIRI UNTUK MENDUKUNG KEMANDIRIAN PANGAN . Jurnal Pengabdian Kepada Masyarakat (MEDITEG), 7(1), 17-28. https://doi.org/10.34128/mediteg.v7i1.109