PENERAPAN TEKNOLOGI TEPAT GUNA PENGOLAHAN BIODIESEL PADA KELOMPOK USAHA BANUA BERSAMA ENERGY – KABUPATEN TANAH LAUT
ika nugraheni

Politeknik Negeri Tanah Laut

Kurnia Dwi Artika

Politeknik Negeri Tanah Laut

Eni Suasri

Politeknik Negeri Tanah Laut
Keywords:
biodiesel, waste cooking oil, appropriate technology
Abstract
Tanah Laut Regency is a huge area with a large population to generate a lot of household/kitchen waste. Furthermore, Tanah Laut has a relatively significant waste of spent cooking oil due to its huge number of restaurants and food processing enterprises. The Banua Bersama Energy is a company that collects leftover cooking oil and sells it outside of the region. So far, sales have been made in the form of wasted cooking oil that has not been processed. This partner group does not yet have the knowledge and technology as them when it comes to processing spent cooking oil. It is envisaged that through this PKM program, partner groups can increase the economic worth and advantages of wasted cooking oil that has been collected. With the socialization to Biodiesel users, it has helped partners in fulfilling the market share from the production of processed used cooking oil.
References
Alptekin, E., Canacki , M., & Sanli, H. (2014). Biodiesel Production From Vegetable Oil And Waste Animal Fats in Pilot Plant. Waste Management, 2146-2154.
BPS), B. P. (2020). Statistik Daerah Kabupaten Tanah Laut 2020. Tanah Laut: Badan Pusat Statistik Kabupaten Tanah Laut.
BPS, B. P. (2019). Tinjauan Perekonomian Kabupaten Tanah Laut 2019. Tanah Laut: Badan Pusat statistik Kabupaten Tanah Laut.
Dini Kurniawati, & Maftuchah. (2020). Analisa Viskositas Kinematik Dan Densitas Pada Campuran Biooil Dan Crude Jatropha Curcas Oil. Seminar Nasional Teknologi dan Rekayasa (SENTRA)2020 (hal. I85-I92). Malang: Universitas Muhammadiyah Malang.
Dirjen Migas (2006). Standar Mutu (Spesifikasi) Bahan Bakar Nabati (Biofuel) Jenis Biodiesel Sebagai Bahan Bakar Lain Yang Dipasarkan Di Dalam Negeri. Jakarta.
Efendi, R., Faiz, H. A., & Firdaus, E. (2018). Pembuatan Biodiesel Minyak Jelantah Menggunakan Metode Esterifikasi-Transesterifikasi Berdasarkan Pemakaian Minyak Jelantah. Indonesian Research Workshop and National Seminar (hal. 402-409). Bandung: Politeknik Negeri Bandung.
Harahap, J. (2018). Potensi Pemanfaatan Limbah Minyak Jelantah Kota Banda Aceh Sebagai Sumber Energi Alternatif (Biodiesel). Elkawnie, 51-64.
Noor, C., Noor , M., & Mamata, R. (t.thn.). Biodiesel as Alternative Fuel For Marine Diesel Engine Applications: A Review.
Prasetyo, J. (2018). Studi Pemanfaatan Minyak Jelantah Sebagai Bahan Baku Pembuatan Biodiesel. Jurnal Ilmiah Teknik Kimia UNPAM, 1-10.
Silaban, D. M., Helwani , Z., & Yenti, S. (2015). Esterifikasi Gliserol Sebagai Produk Samping Biodiesel Menjadi Triacetin Dengan Menggunakan Katalis Zeolit Alam Pada Variasi Suhu Reaksi Dan Konsentrasi Katalis. JOM FTEKNIK, 1-7.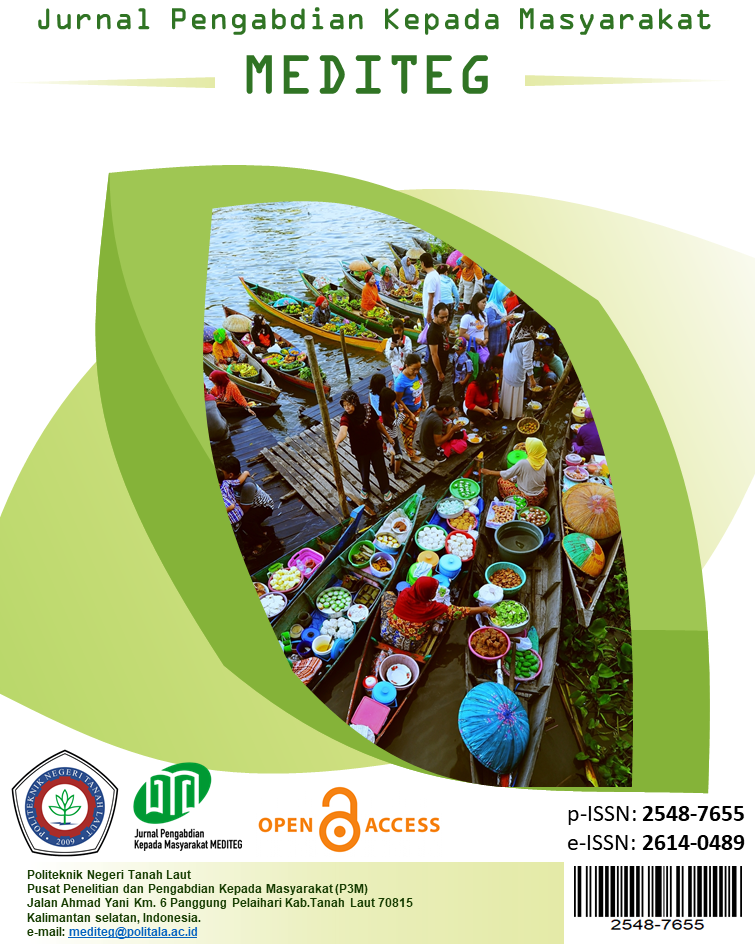 How to Cite
nugraheni ika, ArtikaK. D., & SuasriE. (2022). PENERAPAN TEKNOLOGI TEPAT GUNA PENGOLAHAN BIODIESEL PADA KELOMPOK USAHA BANUA BERSAMA ENERGY – KABUPATEN TANAH LAUT. Jurnal Pengabdian Kepada Masyarakat (MEDITEG), 7(1), 9-16. https://doi.org/10.34128/mediteg.v7i1.110