PENINGKATAN KUALITAS DAN KUANTITAS OLAHAN RUMPUT LAUT COTTONII PADA UKM KELOMPOK TANI MANGROVE WONOREJO RUNGKUT
Lila Yuwana

Institut Teknologi Sepuluh Nopember

Susilo Indrawati

Institut Teknologi Sepuluh Nopember

Iim Fatimah

Institut Teknologi Sepuluh Nopember

Sudarsono Sudarsono

Institut Teknologi Sepuluh Nopember

Melania Suweni Muntini

Institut Teknologi Sepuluh Nopember

Suyatno Suyatno

Institut Teknologi Sepuluh Nopember
Keywords:
Cottoni seaweed, hygiene, improvement of the community's economy, mangrove area
Abstract
In this community services, cottoni seaweed processed products have been developed which are widely obtained in mangrove forest areas, mangroves, Rungkut Surabaya. Moreover, the production capacity has been increased so that production per day can increase significantly, i.e, to the double if using the equipment provided in this activity. Furthermore, the production process will also be accelerated so that not only the quantity of products per day is improved, but also the production time can be accelerated and the production process will be much more efficient. With the existence of this community services, it has also succeeded in increasing the diversification of processed products made from local raw materials efficiently and with a large production capacity. It has been produced that the production capacity is doubled per day if using the mixer equipment provided by the service team. Furthermore, by using a spinner that is also provided by the community services team, quality improvement is attained by slicing oil for processed fried foods.
References
Aqmal, A., Tuwo, A., & Haryati. (2013). Rumput Laut Indonesia. Warta Ekspor Ditjen PEN, Kementerian Perdagangan, 70(IX), 8–11.
Argo, B. D., Lutfi, M., & Sugiarto, Y. (2014). Rancang bangun alat "spinner pulling oil" sebagai pengentas minyak otomatis dalam penigkatan mutu abon ikan patin ( Pangaius pangaius ) pada Koperasi Wanita Srikandi. Jurnal Teknologi Pertanian, 15(2), 103–110.
Handayani, T. (2006). Protein Pada Rumput Laut. Oseana, 31(4), 23–30.
Jusman. (2019). Identifikasi jenis rumput laut alam di perairan tanakke kabupaten takalar. UNIVERSITAS MUHAMMADIYAH MAKASSAR.
Litbang Rumput Laut. (n.d.). Beragam Jenis Rumput Laut Kelompok Rhodophyceae | JaSuDa.nET. Retrieved February 13, 2021, from https://www.jasuda.net/litbangdtl.php?judul=Beragam Jenis Rumput Laut Kelompok %3Ci%3ERhodophyceae%3C/i%3E&hlm=135
Maghfurah, F., Purwono, H., & Windarta. (2016). RANCANG BANGUN ALAT MIXER VERTIKAL ADONAN KUE DONAT DENGAN GEARBOX TIPE BEVEL GEAR KAPASITAS 7 KILOGRAM. Jurnal Teknologi Industri, 22(10), 726–731.
Kepmen 2019. Pedoman Umum Pembudidayaan Rumput Laut, Kepmen 1 (2019).
PERATURAN MENTERI KESEHATAN REPUBLIK INDONESIA NOMOR 1096/MENKES/PER/VI/2011 TENTANG HIGIENE SANITASI JASABOGA, (2011).
Nurismanto, R. (2016). PENERAPAN TEKNOLOGI PENGOLAHAN TEPUNG BUAH MANGROVE JENIS PADADA ( SONNERATIA CASEOLARIS ) PADA KELOMPOK TANI ( Technology application of processing mangrove fruit flour species of. 11(2), 1–6.
Safia, W., Budiyanti, & Musrif. (2020). KANDUNGAN NUTRISI DAN SENYAWA BIOAKTIF RUMPUT LAUT ( Euchema cottonii ) YANG DIBUDIDAYAKAN DENGAN TEKNIK RAKIT Method at Different Depths. Jurnal Pengolahan Hasil Perikanan Indonesia, 23(2), 261–271.
Wahyudi. (2003). Memproduksi roti. DIREKTORAT PENDIDIKAN MENENGAH KEJURUAN DIREKTORAT JENDERAL PENDIDIKAN DASAR DAN MENENGAH DEPARTEMEN PENDIDIKAN NASIONAL.
Yuwana, L., Suyatno, Indrawati, S., Salim, A. T. A., Sudarsono, & Arvitrida, N. I. (2020). Designing and Developing Electric Squeezer Machine for Mangrove Syrup Production. International Joint Conference on Science and Engineering, 196(Ijcse), 282–286. https://doi.org/10.2991/aer.k.201124.051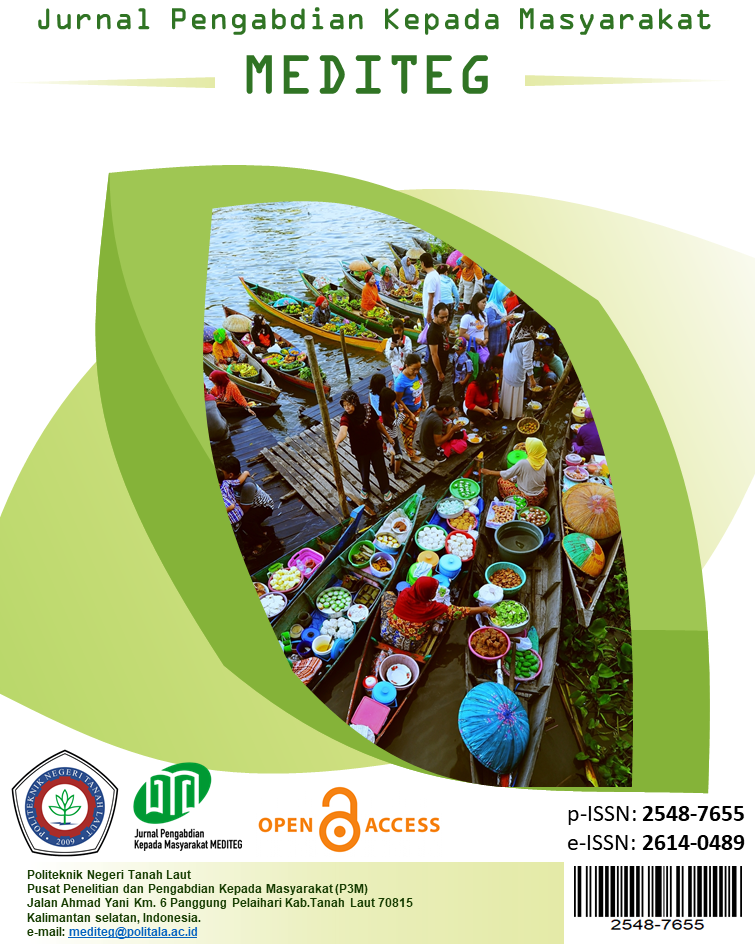 How to Cite
YuwanaL., IndrawatiS., FatimahI., SudarsonoS., Suweni MuntiniM., & SuyatnoS. (2022). PENINGKATAN KUALITAS DAN KUANTITAS OLAHAN RUMPUT LAUT COTTONII PADA UKM KELOMPOK TANI MANGROVE WONOREJO RUNGKUT. Jurnal Pengabdian Kepada Masyarakat (MEDITEG), 7(1), 37-44. https://doi.org/10.34128/mediteg.v7i1.112