PENGABDIAN PADA MASYARAKAT TERPADU UNTUK PENGEMBANGAN AGROWISATA DURIAN DI DESA NGROPOH BERBASIS POTEMSI LOKAL
R Arri Widyanto

Universitas Muhammadiyah Magelang

https://orcid.org/0000-0002-4449-9881

Nurul Huda

Universitas Muhammadiyah Magelang

Afri Listiyana

Universitas Muhammadiyah Magelang

Ditya Anstryani

Universitas Muhammadiyah Magelang

Handika Satya Putra

Universitas Muhammadiyah Magelang

Graha Alfiantoro

Universitas Muhammadiyah Magelang
Keywords:
agrowisata, edupark, potensi lokal, PPMT
Abstract
Ngropoh Village, Kranggan District, Temanggung Regency, has an area of 479,184 Ha consisting of 12 dusun  with 5 RWs and 30 RTs, with a population of 3,230 people. The economic potential is: agriculture, plantation, animal husbandry and home industry. The main local potential is the local durian fruit, so that it can be developed into agro tourism. The problems that occur, these potentials are not optimal. The method used is: Planning, Implementation and Reporting. The results of this activity are the pioneering durian agro tourism as edupark, the label of traditional food products and souvenirs. The benefits of this activity for the people of Ngropoh Village in the form of socio-economic potential and added value in the field of science and technology are: increased sales turnover of traditional food products and a profile video of the Ngropoh village uploaded on YouTube and social media, used as marketing media.
References
Anonim. (2019). Data Monografi Desa Ngropoh 2019.
Astrini, A. R. (2019). Perancangan Video Profil Khasanah Batik "Adi Purwo" Kabupaten Purworejo. Ars: Jurnal Seni Rupa Dan Desain, 21(1), 34–45. https://doi.org/10.24821/ars.v21i1.2526
Fitriyani, Y., Nurmalina, R., Febriana, R., & Sunasri, E. (2018). Menggerakkan Ekonomi Desa Melalui Badan Usaha Milik Desa (BUMDes). Mediteg, 3(1), 1–7. Retrieved from https://www.uam.es/gruposinv/meva/publicaciones jesus/capitulos_espanyol_jesus/2005_motivacion para el aprendizaje Perspectiva alumnos.pdf%0Ahttps://www.researchgate.net/profile/Juan_Aparicio7/publication/253571379_Los_estudios_sobre_el_cambio_conceptual_
Haryanto, E. S., & Utomo, T. P. (2019). Pengembangan Desain Suvenir Museum Sangiran dengan Pendekatan Lokalitas dan Teknik Daur Ulang. In PROSIDING: SENI, TEKNOLOGI, DAN MASYARAKAT (Vol. 2, pp. 138–147). Surakarta: ISI Surakarta. Retrieved from https://dipro.isi-ska.ac.id/index.php/SemHas/article/view/113
Herminingtyas, R. (2013). Analisis Fungsi Kemasan Produk Melalui Model View Dan Pengaruhnya Terhadap Keputusan Pembelian Konsumen Pada Produk Rokok Kretek Merek Dji Sam Soe Di Kota Semarang. Jurnal STIE Semarang, 5(2), 1–18. Retrieved from https://www.neliti.com/id/publications/133338/analisis-fungsi-kemasan-produk-melalui-model-view-dan-pengaruhnya-terhadap-keput
Putra, A. R., & Silfiana. (2019). Strategi Pengembangan Potensi Desa Menjadi Desa Wisata Edukasi di Desa Bumijaya (Studi Kasus Sentra Kerajinan Gerabah Desa Bumi Jaya Kecamatan Ciruas Kabupaten Serang). Jurnal Kebijakan Pembangunan Daerah, 3(1), 13–32. Retrieved from https://www.academia.edu/40197032/STRATEGI_PENGEMBANGAN_POTENSI_DESA_MENJADI_DESA_WISATA_EDUKASI_DI_DESA_BUMI_JAYA
Ranti, M. G., & Susilawati, E. (2019). Shasira Craft, Usaha Kerajinan Kain Perca Sasirangan Sebagai Upaya Pemberdayaan Ibu-Ibu Warga Perumahan Seribu, Kecamatan Martapura, Kabupaten Banjar, Provinsi Kalimantan Selatan. Jurnal Pengabdian Kepada Masyarakat MEDITEG, 4(2), 32–41. https://doi.org/10.34128/mediteg.v4i2.52
Roza, Y., Nanda, N., & Gustina, G. (2019). VIDEO PROFILE PROMOSI DAN INFORMASI PADA. CICES, 5(2), 143–150. https://doi.org/https://doi.org/https://doi.org/10.33050/cices.v5i2.582
Sagita, L., & Sari, M. W. (2019). Pelatihan Pembuatan Desain dan Label Produk Lurik Kulit di Panggungharjo Bantul. Abdimas Dewantara, 2(2), 115–119.
Suprina, R., Rachman, A. F., & Fitriana, R. (2019). Peningkatan Kapasitas Desa Wisata Cikolelet Melalui Program Pendampingan. Jurnal Pemberdayaan Pariwisata, 1(1), 26–35.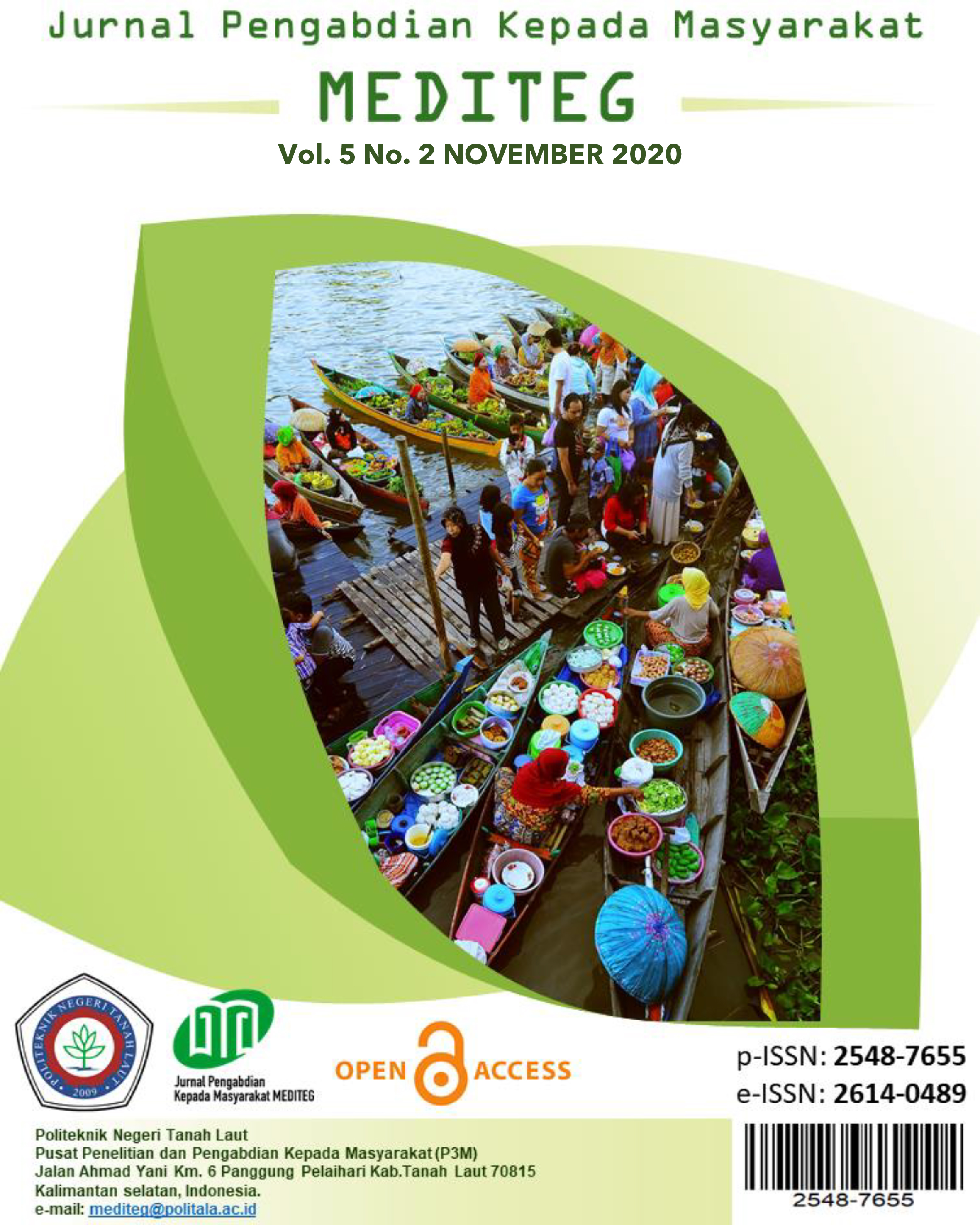 How to Cite
WidyantoR. A., HudaN., ListiyanaA., AnstryaniD., PutraH. S., & AlfiantoroG. (2020). PENGABDIAN PADA MASYARAKAT TERPADU UNTUK PENGEMBANGAN AGROWISATA DURIAN DI DESA NGROPOH BERBASIS POTEMSI LOKAL. Jurnal Pengabdian Kepada Masyarakat (MEDITEG), 5(2), 39-46. https://doi.org/10.34128/mediteg.v5i2.70