PELATIHAN KEBUGARAN JASMANI SISWA DI KABUPATEN SUMENEP PADA MASA PANDEMI COVID 19
Abdul Azis

STKIP PGRI SUMENEP

Dian Helaprahara

Andi Fepriyanto

Nugroho Agung Supriyanto

STKIP PGRI Sumenep
Keywords:
student physical fitness, covid 19 pandemic
Abstract
Community service activities with the theme of physical fitness training for students in Sumenep during the Covid 19 pandemic season aim to provide understanding and awareness to students of the importance of maintaining physical fitness so that viruses do not easily attack the body. This activity uses a web-based training approach using the zoom application and this activity is carried out for one day with two sessions, namely a theory session and a practical session. The results of this activity can be seen from the large number of participants and the high enthusiasm of the participants with the many questions asked, besides that there is an increase in knowledge and ability to do push ups correctly according to the procedure, Besides that, the enthusiasm of students in participating in this activity is quite high, it's can be seen from the level of satisfaction of participants in participating this activity reaching 61% of 79 participants.
References
Henjilito, R. (2019). Hubungan Status Gizi Dengan Tingkat Kesegaran Jasmani Siswa Putra Kelas II Di SMA N 1 Bangkinang Kabupaten Kampar. Jurnal Penjakora, 6(1), 42-49.
Natalia, D., Sugiyanto, S., & Kiyatno, K. (2016). Partisipasi Masyarakat dan Tingkat Kebugaran Jasmani Bagian dari Pembangunan Olahraga Kabupaten Wonogiri. Media Ilmu Keolahragaan Indonesia, 6(2), 41-46..
Permana, A. (2016). Tingkat Partisipasi Olahraga dan Ketersediaan SDM Keolahragaan Kota Pontianak Provinsi Kalimantan Barat Ditinjau Dari Sport Development Index (SDI). Jurnal Pendidikan Olah Raga, 4(1), 9-19.
Soegiyanto, K. S. (2013). Keikutsertaan Masyarakat dalam Kegiatan Olahraga. Media Ilmu Keolahragaan Indonesia, 3(1).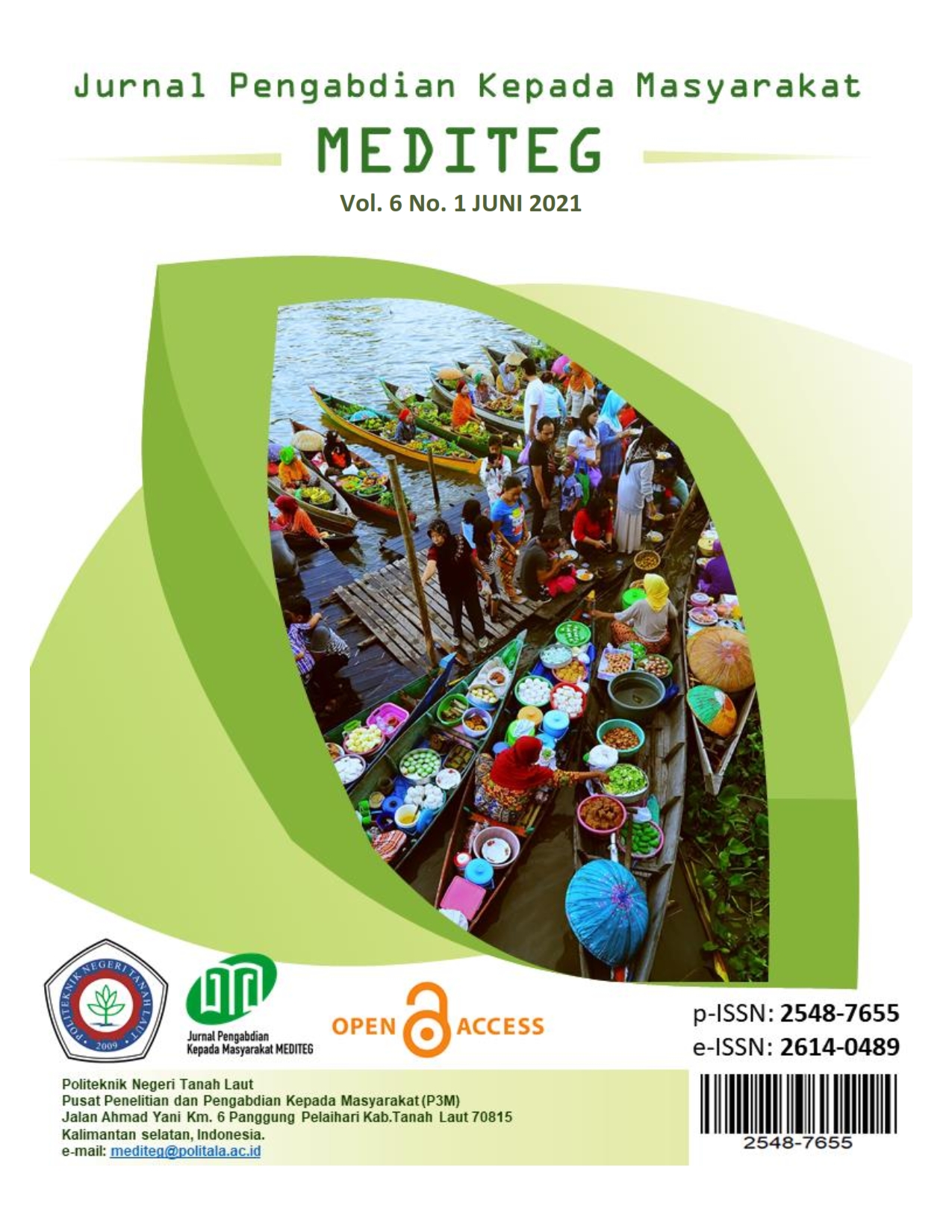 How to Cite
Abdul Azis, Dian Helaprahara, Andi Fepriyanto, & Nugroho Agung Supriyanto. (2021). PELATIHAN KEBUGARAN JASMANI SISWA DI KABUPATEN SUMENEP PADA MASA PANDEMI COVID 19. Jurnal Pengabdian Kepada Masyarakat (MEDITEG), 6(1), 13-20. https://doi.org/10.34128/mediteg.v6i1.91