PELATIHAN OPTIMASI MESIN PENCARI (SEO) PADA KONTEN WEB PKBM TUNAS MELATI PELAIHARI
Agustian Noor

Politeknik Negeri Tanah Laut

Ahmad Rusadi Arrahimi

Billy Sabella

Eka Wahyu Sholeha
Keywords:
website, SEO, search engine
Abstract
This service utilizes the steps of the Search Engine Optimizer (SEO) in maximizing the search for website addresses to accelerate recognition and marketing. The output target is the optimization of the Tunas Bangsa website through SEO which includes the ease of finding website addresses for visitors on search engines. The use of automated search engines can lower promotional costs than using traditional and conventional media such as newspapers, radio broadcasts, television, and so on. Website addresses that are used as promotional tools and digital introductions by the Tunas Melati Community Learning Activity Center must be designed properly and correctly, so that they can be an appropriate and optimal promotional tool. This step is followed by website optimization so that it is detected and indexed at the top on search engines like Google. The method used is in the form of steps and the use of SEO plugins on a wordpress-based website. The result of this activity is an optimal website indexing by search engines.
References
Cahyono, N. T., Triyono, J., & Raharjo, S. (2013). Penerapan Teknik Seo (Search Engine Optimization) Pada Blog (Studi Kasus: Nova13.Com). Teknologi Technoscientia, 6(1), 80–88.
Hayaty, M., & Meylasari, D. (2018). Implementasi Website Berbasis Search Engine Optimization (SEO) Sebagai Media Promosi. Jurnal Informatika, 5(2). https://doi.org/10.31311/ji.v5i2.4027
International Telecommunication Union. (2010). Monitoring the WSIS Targets: A mid-term review. World Telecommunication/ICT Development Report 2010, 258.
Jones, A. T., Malczyk, A., & Beneke, J. (2011). Internet Marketing: a highly practical guide to every aspect of internet marketing. University of Cape Town. http://hdl.handle.net/11427/4154
Kress, G., Still, R. R., & Cundiff, E. W. (1973). Essentials of Marketing. In Journal of Marketing (Vol. 37, Issue 1). https://doi.org/10.2307/1250780
Mardiyantoro Nahar, K. L. A. (2021). PENINGKATAN BRANDING PADA WEBSITE SIKIDANG . COM DENGAN MENGGUNAKAN TEKNIK SEARCH ENGINE OPTIMIZATION ( SEO ) ON. Jurnal Penelitian Dan Pengabdian Kepada Masyarakat UNSIQ, 8(3), 262–267.
Pratomo, A., Najwaini, E., Irawan, A., & Risa, M. (2019). OPTIMASI E-COMMERCE DENGAN PENERAPAN TEKNIK SEO (SEARCH ENGINE OPTIMIZATION) UNTUK MENINGKATKAN PENJUALAN PADA UKM NIDA SASIRANGAN. Jurnal IMPACT: Implementation and Action, 1(1). https://doi.org/10.31961/impact.v1i1.615
Purcell, K., Brenner, J., & Rainie, L. (2012). Search engine use 2012. Pew Internet & American Life Project. Search.
Sukri, S., & Zulfikar, Z. (2021). Mendapatkan Peringkat Terbaik Website Pada Search Engine Dengan Metode Search Engine Optimization (SEO). Jurnal Nasional Komputasi Dan Teknologi Informasi (JNKTI), 4(3). https://doi.org/10.32672/jnkti.v4i3.2973
Swati, P. P., Pawar, B., & Ajay, S. P. (2013). Search Engine Optimization: A Study. Isca.In, 1(1), 10–13. http://www.isca.in/COM_IT_SCI/Archive/v1i1/3.ISCA-RJCITS-2013-005.pdf
Triyanto, W. A., & Susanti, N. (2017). Optimasi Meta Tag HTML Untuk Meningkatkan Search Engine Optimization (SEO) Pada Website E-Commerce UMKM. Indonesian Journal On Networking and Security, 6(4).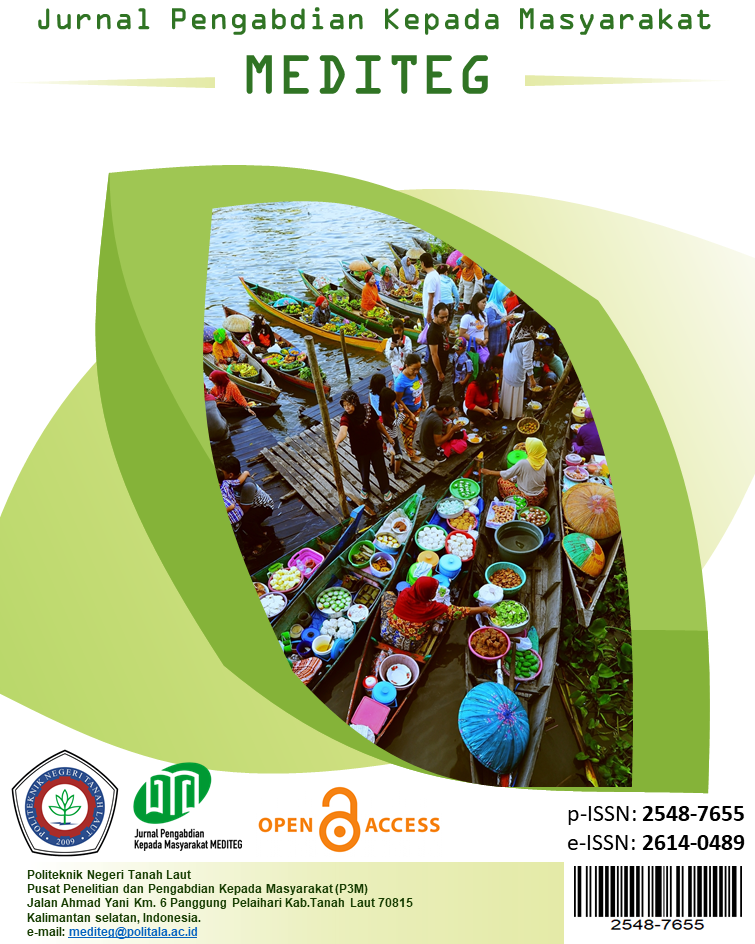 How to Cite
Agustian Noor, Rusadi ArrahimiA., SabellaB., & Wahyu SholehaE. (2021). PELATIHAN OPTIMASI MESIN PENCARI (SEO) PADA KONTEN WEB PKBM TUNAS MELATI PELAIHARI. Jurnal Pengabdian Kepada Masyarakat (MEDITEG), 6(2), 47-54. https://doi.org/10.34128/mediteg.v6i2.92