PELATIHAN PENGGUNAAN GOOGLE DRIVE SEBAGAI MEDIA MANAJEMEN ARSIP BAGI PERANGKAT DESA DI DESA PANGGUNG KECAMATAN PELAIHARI
Jaka Permadi

Politeknik Negeri Tanah Laut

Hendrik Setyo Utomo

Politeknik Negeri Tanah Laut

Eka Wahyu Sholeha

Politeknik Negeri Tanah Laut
Keywords:
google drive, archive management, village officials
Abstract
The Panggung village officials in carrying out its performance has problems in archive management. Files stored in personal computers can be lost and corrupted due to a number of factors. Another problem is the difficulty of sharing files via social media such as WhatsApp, especially if the size is large. Finding files that have been shared for a long time is also difficult. Training on the use of Google Drive was carried out as a solution to the problem of archive management in Panggung Village. This training was wrapped in the form of community service and was held on June 2nd, 2021 at the Panggung Village Office which was attended by 20 Panggung village officials. The training is divided into four training materials: introduction to Google Drive, storing documents in Google Drive, sharing files and folders, and collaborating in managing documents on Google Drive. At the end of the training participants were asked to fill out a service partner satisfaction questionnaire. As a result, 93.5% of participants stated that they were very satisfied with the training. The remaining of them, about 6% of participants said that they were satisfied and 0.5% of participants said that they were not satisfied.
References
Arsana, I. N. A., Wulandari, D. A. P., Pratistha, I., Waas, D. V., & Meinarni, N. P. S. (2021). Pelatihan Dasar Komputer dan Teknologi Informasi Bagi Perangkat Desa Kukuh. Jurnal WIDYA LAKSMI, 1(1), 20–25.
Basuki, B., Yoto, Y., Kustono, D., & Nurmalasasi, R. (2020). Peningkatan Keterampilan Mengolah Data Melalui Pelatihan Penggunaan Teknologi Informasi Bagi Perangkat Desa. Jurnal Pengabdian, Pendidikan Dan Teknologi, 1(2), 81–89.
BPS Kab. Tanah Laut. (2020). Kecamatan Pelaihari dalam Angka 2020. BPS Kab. Tanah Laut.
Kartini, D., & Eko, A. (2019). Upgrade Skill Komputer Perangkat Desa Pemakuan. Jurnal Pengabdian Kepada Masyarakat (MEDITEG), 4(2), 7–11. https://doi.org/10.34128/mediteg.v4i2.48
Kontributor Wikipedia. (2021). Google Drive. Wikipedia, Ensiklopedia Bebas. https://id.wikipedia.org/w/index.php?title=Google_Drive&oldid=18228433
Nugroho, A. (2019). Pelatihan Pemanfaatan Google Drive untuk Manajemen Dokumen dan File di Pemerintahan Desa Sidowangi Kabupaten Magelang. PROSIDING SEMINAR HASIL PENGABDIAN MASYARAKAT, 25–30.
Rhomadhona, H., Aprianti, W., Kusrini, W., & Utomo, H. S. (2020). Penerapan WPS Office sebagai Alternatif Administrasi Perkantoran. Jurnal Pengabdian Kepada Masyarakat (MEDITEG), 5(1), 27–31. https://doi.org/10.34128/mediteg.v5i1.61
Zendrato, P. (2019). Tantangan Komputerisasi Perangkat Desa. DetikNews. https://news.detik.com/kolom/d-4493825/tantangan-komputerisasi-perangkat-desa
Zulham, Z., Rusydi, I., & Iqbal, M. (2018). Pengenalan Cloud Computing Sebagai Teknologi Penunjang Pelaksanaan Administrasi Aparatur Desa di Desa Namo Sialang Kabupaten Langkat. Publik, 3, 88–96. https://doi.org/10.46576/jpr.v3i0.336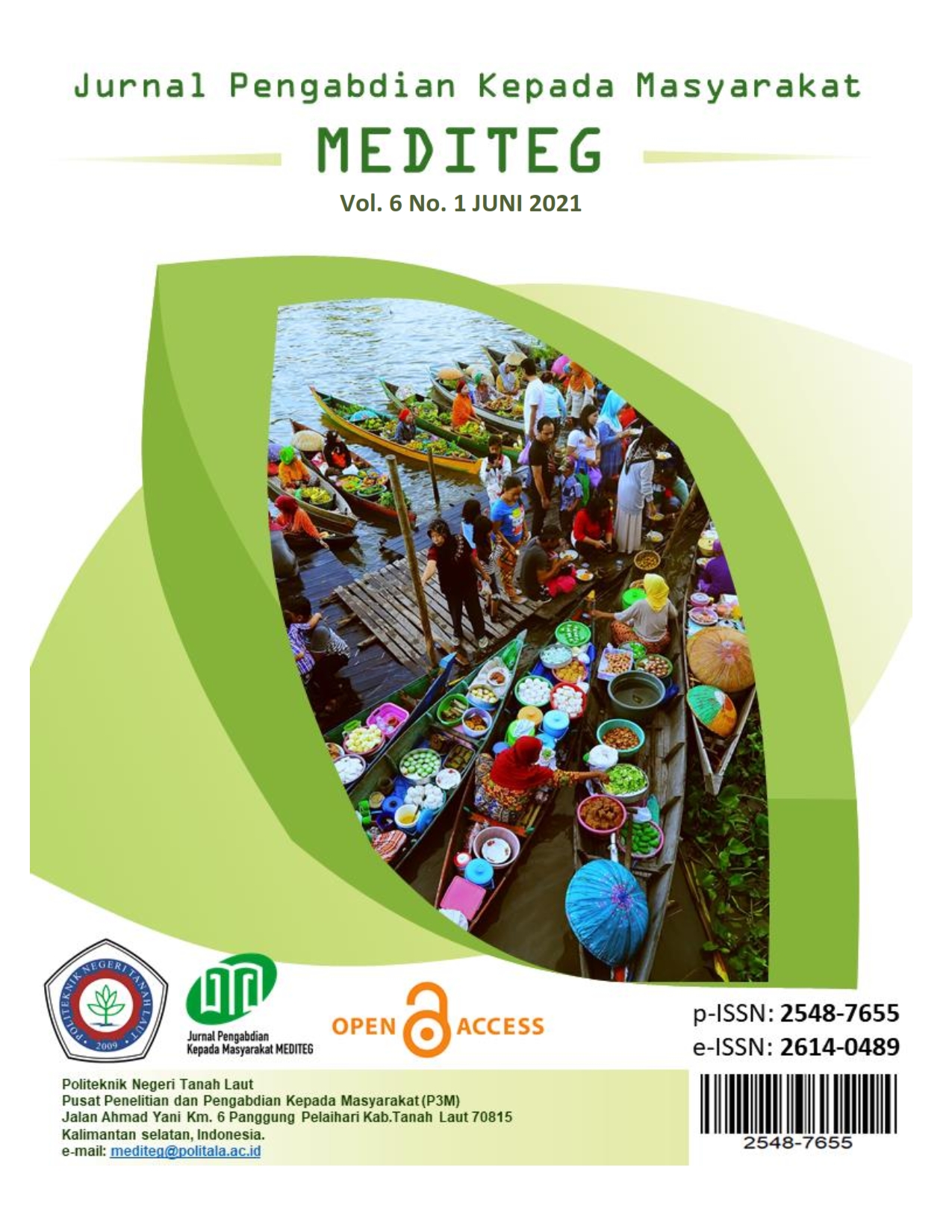 How to Cite
PermadiJ., UtomoH. S., & SholehaE. W. (2021). PELATIHAN PENGGUNAAN GOOGLE DRIVE SEBAGAI MEDIA MANAJEMEN ARSIP BAGI PERANGKAT DESA DI DESA PANGGUNG KECAMATAN PELAIHARI. Jurnal Pengabdian Kepada Masyarakat (MEDITEG), 6(1), 1-12. https://doi.org/10.34128/mediteg.v6i1.93