SOSIALISASI PEMBUATAN JAMU KEKINIAN DAN JAMU INSTAN DI DUSUN KADIBESO, ARGODADI, SEDAYU, BANTUL, DIY
Annisa Fatmawati

Universitas Alma Ata
Keywords:
herbs, turmeric, ginger, instant herbs
Abstract
The people in Kadibeso Hamlet, Argodadi Village, Sedayu, Bantul, have never received socialization and training on making instant herbal medicine. The methods used in conducting the socialization and workshop on making instant herbal medicine to the people of Dusun Kadibeso: counseling on "Utilizing TOGA" and a demonstration on how to make a "contemporary" drink from turmeric juice (Curcuma longa Linn) mixed with milk, as well as making instant ginger (Zingiber officinale). The results of interviews and distribution of questionnaires after the socialization and workshop on making herbal medicine "Curmilk", all participants understood the material given with a 100% understanding percentage. Traditional herbal medicine in liquid form has the disadvantage that it is not durable, because it is easily overgrown by bacteria and fungi. So, the innovation of making instant ginger powder "provides a solution", so that herbal preparations can be stored longer and can become a commodity for traditional medicinal products. Jamu which is packaged in the form of today's products is an opportunity to elevate traditional Indonesian medicines into superior products that are beneficial to health.
References
Achiria et al. (2018) "PELATIHAN MANAJEMEN MASJID DI DESA ARGODADI, SEDAYU, BANTUL, YOGYAKARTA," Prosiding Seminar Nasional, (8), hal. 265–271. Tersedia pada: https://dspace.uii.ac.id/handle/123456789/11481.
Affandi dan Azmi, K. (2019) "Sosialisasi Dan Inovasi Olahan Jamu Cair Menjadi Jamu Bubuk Pada Para Pelaku Umkm Jamu Tradisional," Ihsan : Jurnal Pengabdian Masyarakat, 1(Vol 1, No 2 (2019): Jurnal Ihsan (Oktober)), hal. 118–125. Tersedia pada: http://jurnal.umsu.ac.id/index.php/IHSAN/article/view/4724.
Ahmad, R. S. et al. (2020) "Applications of Turmeric : A Mechanistic Review," Evidence-Based Complementary and Alternative Medicine, 2020.
Andriani, D. dan Murtisiwi, L. (2020) "Uji Aktivitas Antioksidan Ekstrak Etanol 70% Bunga Telang (Clitoria ternatea L) dari Daerah Sleman dengan Metode DPPH," Pharmacon: Jurnal Farmasi Indonesia, 17(1), hal. 70–76. doi: 10.23917/pharmacon.v17i1.9321.
Fatmawati, A., Bachri, M. S. dan Nurani, L. H. (2019) "Combination Effects of Moringa oleifera Leaf Ethanol Extract and Andrographis paniculata Herb on Blood Glucose Levels and Pancreas Histopathology of Diabetic Rats Induced by Streptozotocin," Majalah Obat Tradisional, 24(2), hal. 85. doi: 10.22146/mot.39401.
Fatmawati, A. dan N. P. A. (2019) "Penetapan Kadar Flavonoid Total Ekstrak Etanol Daun Kelor (Moringa Oleifera Lam) Dengan Metode Kromatografi Lapis Tipis Densitometri," Proceedings of the Conference Maternal Healthcare and Pharmacy, 1(1), hal. 1–7. Tersedia pada: http://fikes.almaata.ac.id/wp-content/uploads/2019/07/Annisa-FatmawatiNurwani-Purnama-Aji.pdf.
Handayani, D., Ikhsan, D. dan Murni, Ardiansari, A. (2014) "IbM . KELOMPOK INDUSTRI SERBUK INSTAN JAMU DAN MINUMAN KESEHATAN DI UNGARAN ," 10(02).
Ismawati, Vira Pratiwi, Martinus Partono, M. Jayadi Abdi, S. M. (2020) "Sosialisasi Pembuatan Jamu Kunyit Sebagai Obat Tradisional Masyarakat Di Desa Belimbing Baru, Kecamatan Sungai Pinang, Kabupaten Banjar," PADARINGAN (Jurnal Pendidikan Sosiologi Antropologi), 2(2), hal. 235. doi: 10.20527/padaringan.v2i2.2153.
Komari, N., Mujiyanti, D. R. dan Umaningrum, D. (2021) "Pembuatan hand sanitizer alami di desa cempaka baru kota banjarbaru," Jurnal Pengabdian Kepada Masyarakat MEDITEG, 6(1), hal. 21–30.
Lingga, H. N. dan , Fadlilaturrahmah, E. S. (2018) "PELATIHAN PEMBUATAN JAMU INSTAN SEBAGAI DIVERSIFIKASI PRODUK PENGRAJIN JAMU DI KAMPUNG PEJABAT KELURAHAN LOKTABAT SELATAN BANJARBARU," Jurnal Mediteg, 3(1), hal. 1–4.
Liu, Y., Liu, J. dan Zhang, Y. (2019) "Research Progress on Chemical Constituents of Zingiber officinale Roscoe," BioMed Research International, 2019. doi: 10.1155/2019/5370823.
Made, N. et al. (2020) "Diversifikasi Produk Jamu Serbuk Instan Dari Herbal Usadha Bali," Proceeding Senadimas Undiksha, hal. 14–19. Tersedia pada: https://lppm.undiksha.ac.id/senadimas2020/assets/ProsidingSenadimas2020/file/3.pdf.
Masfria et al. (2016) "Antimicrobials activity, antioxidants activity and analysis of active extract chemical compounds content of Moringa (Moringa oleifera Lam.) leaf," International Journal of PharmTech Research, 9(11), hal. 110–120.
Nova, E. et al. (2020) "Potential of moringa oleifera to improve glucose control for the prevention of diabetes and related metabolic alterations: A systematic review of animal and human studies," Nutrients, 12(7), hal. 1–28. doi: 10.3390/nu12072050.
Sagita, D. et al. (2020) "MENGATASI ANTIFLAMASI," 3, hal. 355–362.
Sharifi-Rad, J. et al. (2020) "Turmeric and Its Major Compound Curcumin on Health: Bioactive Effects and Safety Profiles for Food, Pharmaceutical, Biotechnological and Medicinal Applications," Frontiers in Pharmacology, 11(September), hal. 1–23. doi: 10.3389/fphar.2020.01021.
Sukmawati, W. dan Merina, M. (2019) "Pelatihan Pembuatan Mipelatihan Pembuatan Minuman Herbal Instan Untuk Meningkatkan Ekonomi Warganuman Herbal Instan Untuk Meningkatkan Ekonomi Warga," Jurnal Pengabdian Kepada Masyarakat, 25(4), hal. 210. doi: 10.24114/jpkm.v25i4.14874.
Syafitri, D. M. et al. (2018) "A Review: Is Ginger (Zingiber officinale var. Roscoe) Potential for Future Phytomedicine?," Indonesian Journal of Applied Sciences, 8(1), hal. 8–13. doi: 10.24198/ijas.v8i1.16466.
Wulandari, A., Rodiyani dan Sari, R. D. P. (2018) "Pengaruh Pemberian Ekstrak Kunyit ( Curcuma longa linn ) dalam Mengatasi Dismenorea [Effect of Turmeric Extract (Curcuma longa linn) in Reducing Dysmenorrhoea]," Majority, 7(2), hal. 193–197.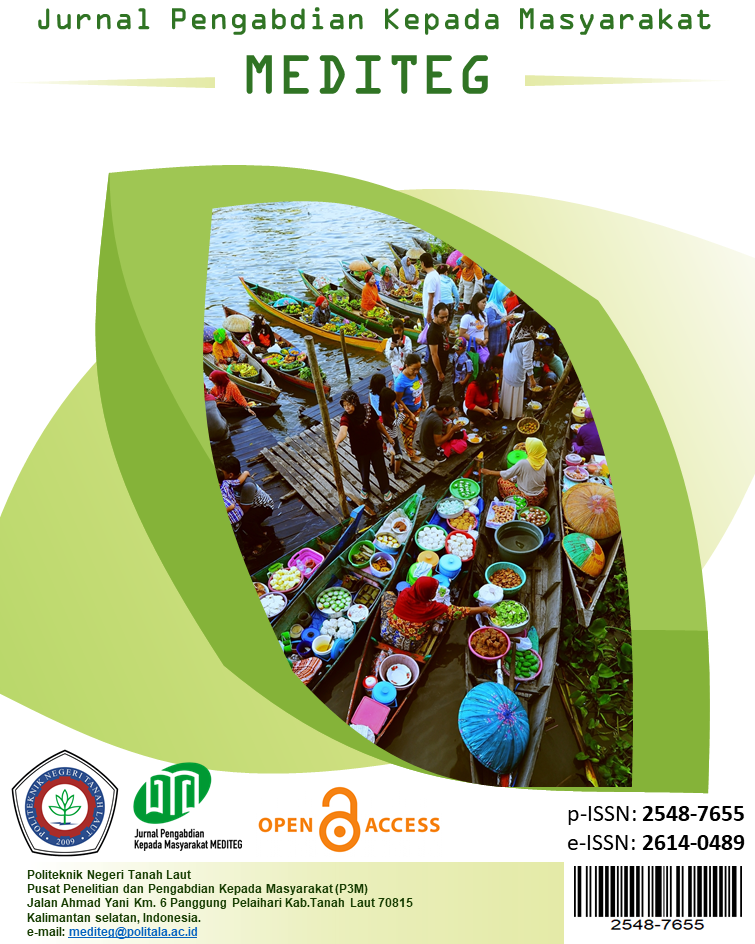 How to Cite
Annisa Fatmawati. (2021). SOSIALISASI PEMBUATAN JAMU KEKINIAN DAN JAMU INSTAN DI DUSUN KADIBESO, ARGODADI, SEDAYU, BANTUL, DIY. Jurnal Pengabdian Kepada Masyarakat (MEDITEG), 6(2), 79-88. https://doi.org/10.34128/mediteg.v6i2.95