PENGGUNAAN ELECTRONIC-DEWEY DECIMAL CLASSIFICATION (E-DDC) DALAM MANAJEMEN PERPUSTAKAAN KOMUNITAS DI KABUPATEN BARRU
Andi Risfan Rizaldi

Universitas Muhammadiyah Makassar

Asriani Hasan

Universitas Muhammadiyah Makassar
Keywords:
DDC, Rumah Baca, Community Library
Abstract
Barru Membaca is a community library that provides community library services in Barru Regency. As the number of library collections and members increases, two fundamental problems are encountered, namely the difficulty of managing library collections due to the non-existent classification system and the difficulty of managing members who carry out library transactions. This Community Service (PKM) activity aims to provide skills for partners to use the Dewey Decimal Classification (DDC) library classification system and integrate it with information technology using the Senayan Library Management System (SLiMS) software. This activity contains material on the DDC system and the practice of using SLiMS. The output of this activity is the implementation of training on the use of Electronic-Dewey Decimal Classification (E-DDC), which two lecturers facilitate from the Faculty of Economics and Business, Universitas Muhammadiyah Makassar, as implementers and assist my students as assistants. There were ten participants, consisting of the Barru Membaca manager and the local community. As a result of this activity, participants understood the DDC concept as a library material classification system and were able to apply SliMS software in managing library collections.
References
Badan Pusat Statistik Kabupaten Barru. (2021). Kabupaten Barru Dalam Angka Tahun 2021.
Dalman, Mardiana, & Marian, F. (2021). PENINGKATAN BUDAYA MEMBACA BERBASIS DIGITAL LIBRARY BAGI MASYARAKAT PESISIR PANTAI PEKON PUTIH DOH. Jurnal Pengabdian Kepada Masyarakat MEDITEG, 6(1), 39–46. https://doi.org/https://doi.org/10.34128/mediteg.v6i1.83
Gunawan, A. (2017). Pemanfaatan Aplikasi SLiMS Senayan Versi 7 Cendana Portable dalam Pembuatan Barcode Koleksi Perpustakaan Pusat Riset Perikanan. Pari, 3(2), 113–117. http://ejournal-balitbang.kkp.go.id/index.php/JP/article/view/6804/pdf
Mortimer, M. (2000). Learn Dewey Decimal Classification (Edition 21). TOTALRECALL PUBLICATIONS, Inc.
Rizaldi, A. R., Hasan, A., & Dewi, N. (2020). CAPACITY BUILDING: LITERASI DIGITAL DAN PELUANG PEMANFAATAN DALAM EKONOMI RUMAH TANGGA. Jurnal Pengabdian Kepada Masyarakat MEDITEG, 5(1), 1–11. https://doi.org/https://doi.org/10.34128/mediteg.v5i1.55
Wikipedia. (2019). https://id.wikipedia.org/wiki/Klasifikasi_Desimal_Dewey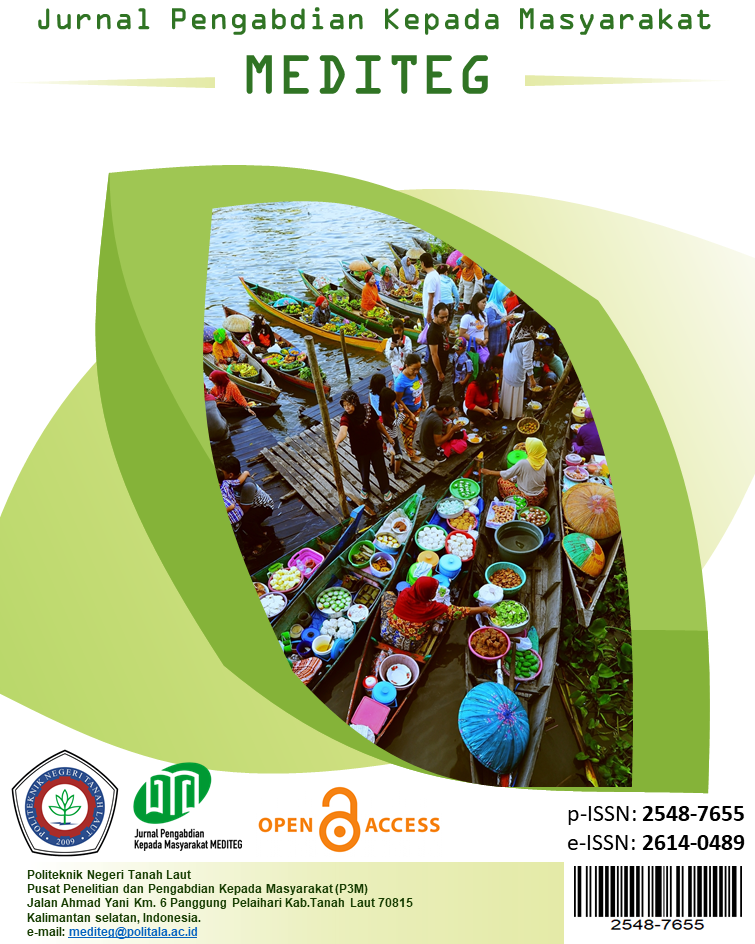 How to Cite
Andi Risfan Rizaldi, & Asriani Hasan. (2021). PENGGUNAAN ELECTRONIC-DEWEY DECIMAL CLASSIFICATION (E-DDC) DALAM MANAJEMEN PERPUSTAKAAN KOMUNITAS DI KABUPATEN BARRU. Jurnal Pengabdian Kepada Masyarakat (MEDITEG), 6(2), 55-64. https://doi.org/10.34128/mediteg.v6i2.97